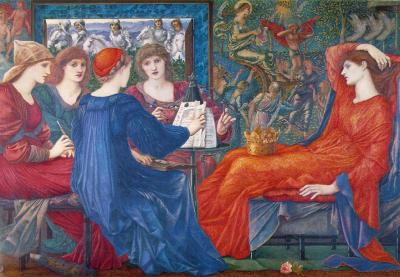 "Laus Veneris" - Edward Burne-Jones

"Asleep or waking is it? for her neck,
Kissed over close, wears yet a purple speck
Wherein the pained blood falters and goes out;
Soft, and stung softly—fairer for a fleck.

But though my lips shut sucking on the place,
There is no vein at work upon her face;
Her eyelids are so peaceable, no doubt
Deep sleep has warmed her blood through all its ways.

Lo, this is she that was the world's delight;
The old grey years were parcels of her might;
The strewings of the ways wherein she trod
Were the twain seasons of the day and night.

Lo, she was thus when her clear limbs enticed
All lips that now grow sad with kissing Christ,
Stained with blood fallen from the feet of God,
The feet and hands whereat our souls were priced.

Alas, Lord, surely thou art great and fair.
But lo her wonderfully woven hair!
And thou didst heal us with thy piteous kiss;
But see now, Lord; her mouth is lovelier.

She is right fair; what hath she done to thee?
Nay, fair Lord Christ, lift up thine eyes and see;
Had now thy mother such a lip—like this?
Thou knowest how sweet a thing it is to me. "
"Laus Veneris" - Algernon Charles Swinburne (Traducción )